Our Mail Order is expanding!
Due to the recent success of our new product line, two new retailers have decided to carry our merchandise...

NEXT EVENT

NATIONAL CHAMPIONSHIPS

AT

GRISTHORPE BAY
FILEY
NORTH YORKSHIRE

5-8TH. OCTOBER. 2001.





And the WINNER is ...
CONGRATULATIONS! To Miss Donna Broadbent From LYNBAR MAJORETTE'S in LEEDS.

Donna WINS! 1ST.2ND.& 3RD PRIZES, as Donna was the ONLY ENTRANT for the APRIL 2001 COMPETITION.

APRIL 2001 COMPETITION ANSWERS ARE GIVEN AT THE BOTTOM OF THIS PAGE:





It's finally here!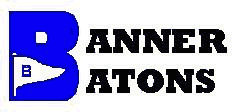 Our latest product/s available right now. Click on the Banner Batons for further details...


BUT REMEMBER DISCOUNTS WILL ONLY BE GIVEN ON MAIL ORDER THROUGH THE B.I.M.A. OFFICE!