LYNBAR MAJORETTES YEARLY PRESENTATION EVENING!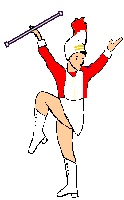 Was held at the SPINNING WHEEL Club in LEEDS - WEST YORKSHIRE on the 22nd.FEBUARY - 2001.

It was Attended by the B.I.M.A. Chairman and Vice Chairman and B.I.M.A. Treasurer and Official, who were entertained by the MAJORETTES doing their Splendid DISPLAYS, after all DISPLAYS were Completed the B.I.M.A. Party did the YEARLY PRESENTATION to ALL the MAJORETTE'S of which was a Great Pleasure to see All the MAJORETTE'S with BEAMING Faces after the YEARLY PRESENTATION'S were Completed.

A GOOD NIGHT & A PLEASURE TO BE THERE!